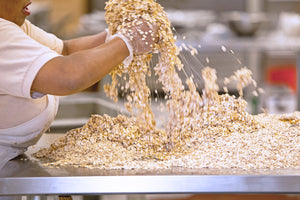 Our Mission
Our goal is to provide you with nutritious and delicious snacks using pure ingredients that contribute to a healthier and happier you. We are committed to working with the highest quality suppliers to bring you the highest quality products so that you can live your highest quality life.
Healthy body + healthy mind = happy life
What's an Oat Crisp?
Oat Crisps are our take on a lightly sweetened cookie that also has the added benefit of being gluten-free. Imagine transforming your favorite plant based granola into a thin, crispy cookie. Just as you would want your granola as simple as possible, we applied that same philosophy to our cookies as well.
It's THAT simple - minimal ingredients, maximum taste, zero guilt.